You have one chance to make a great First Impression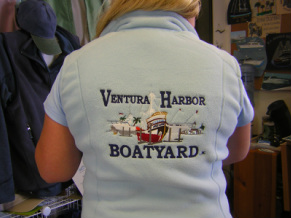 DO IT RIGHT
With beautiful embroidery.
Since 2004 we have established ourselves as experts at converting graphics to beautiful embroidery, then quickly stitching it onto quality apparel.

WHILE YOU WAIT:
In a RUSH? Need the embroidery right away? Sometimes we are able to provide "In an hour" embroidery services - special pricing applies.

SAVE MONEY:
Purchase your apparel from Custom Embroidery and embroidery is LESS!


NO MINIMUM EMBROIDERY ORDER
I
n 2004 we started as a small shop: "Embroidery for Boaters by a Boater!" was our motto. Twelve Years Later - we have expanded to include Screen Printing, Banners, Sublimation, Photo Gifts, and more. Just ask - we welcome your business!
Click for Directions
or Call
805.654.0194
---